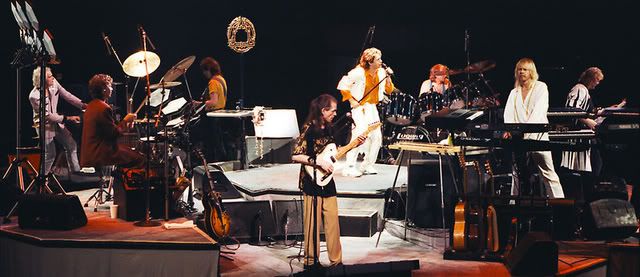 Qué pedazo de concierto!!! Si de por sí, Yes siempre ha sido una banda grandiosa, cuando se dio la encarnación que grabó el disco Union, aquello fue aun más increíble: 1 vocalista, 1 bajista, dos guitarristas e igual número de tecladistas y bateristas son la cantidad de músicos que se embarcaron de gira para promocionar el mencionado disco.
El sonido, al ser un bootleg, tiene calificación de 8.5/10. Denle una escucha a clásicos como Yours Is Not Disgrace, Awaken, Heart Of The Sunshine o Roundabout, así como a los solos de Chris Squire y Trevor Rabin.

Desafortunadamente le falta un track que es Drum Duel y que a la fecha, sigo sin conseguir.

Género: Progressive Rock
Formato: MP3

Personnel:
Jon Anderson / vocals
Chris Squire: bass
Tony Kaye / keyboards
Rick Wakeman / keyboards
Alan White / drums
Bill Bruford / drums
Trevor Rabin / guitars and vocals
Steve Howe / guitars